Did you know that combining video and interaction can be a valuable marketing asset for you business? Learn how interactive video not only saves money but increases sales at the same time.
1. Interactive video can replace expensive sales methods
Seeing is believing. A potential new client who sees your product or service used by real people in a real and thriving company is priceless. That is why some businesses bring potential customers to existing clients so they can showcase what they have to offer. More often than not these activities result in new and invested clients who were blown away by the tour and testimonials they witnessed.
However effective these sales tours are, they have their hurdles and limitations. For example: flying over potential clients, paying an employee (or employees) to prepare and guide a tour of half a day (or more), interupting the work of employees at a clients' company, … This all costs money and valuable time. By creating that same sales tour once, instead of doing it over and over again, a more cost efficient method grows an even bigger customer base.
Take a look at the interactive video example below:
2. Adding interaction results in a personalized approach
Not everyone is interested in the same benefit a product or service has to offer. By adding interactive elements to your video (such as hotspots and questions) the viewer is part of the story. The viewer can choose the parts he/she is interested in, answer small questions to actively learn about your business or just fly through your video thanks to the structure you provide.
Interactive video puts the viewer at the center of your story
Click To Tweet
In the example video above the viewer can move through the label business as if he/she is a product that evolves from one stage to another thanks to the interactive floorplan of the building. The same approach can take viewers to the right parts of your video based on their likes and foreknowledge. Viewer engagement skyrockets with personalized multimedia content.
3. Reach your audience on devices they use the most
It is very likely that you are reading this blog post on your mobile phone. According to eMarketer, 75% of video's worldwide are viewed on a smartphone.
Emarketer even predicts an 11.9% increase over 2017 when it comes to videos watched on smartphones.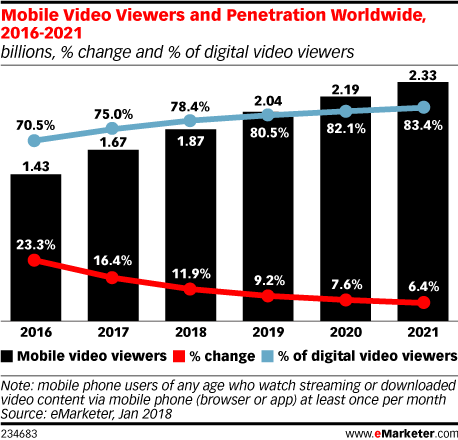 4. Embedded call-to-actions bring in clients
The era of remembering business names and website URL's is gone. Long live call-to-action-buttons! By strategically placing adaptive links or hotspots in your video you can guide viewers to the correct website, product or contact page. You make the path smooth and easy by providing the steps your viewer has to take with the click of a button.
5. Grow your business by adapting your existing video
The biggest benifit of interactive video is scaleability. Take Cerm for example, the company in the example video above. Their product is used in all neighbouring countries and have concurred the market in Central-Europe. By adding translations and subtitles to their existing video, their business reaches more markets and countries than ever before.
Not only would it have been incredibly expensive to show each potential customer in China, for example, how their products work. It would be very time-inefficient.
Adapting their interactive video to the needs and languages of different countries allows them to reach more businesses at the same time and grow their business doing so.
The sky is the limit with interactive media.
Do you want to know more? Have a look at my portfolio page for some more inspiration: https://thomasclaeys.be/portfolio/.